El disseny d'interiors ha canviat força en l'última dècada. La gent està cansada dels marcs de llit foscos i maldestres i s'han mogut cap a marcs de llit més moderns i contemporanis per adaptar-se al seu estil. Realitzem tot tipus de mobles a mida personalitzats.
Ara les habitacions estan plenes de llum natural i de fusta de color ros. Els marcs de llit es valoren pel seu disseny afegit, no només pel propòsit funcional de subjectar un llit.
A continuació, he enumerat quatre maneres d'aconseguir que el vostre dormitori sembli actualitzat i modern. Com que el llit és el punt focal més gran d'un dormitori, escollir el marc de llit adequat ajudarà a definir el to de l'habitació. Si voleu ser més modern en el disseny del vostre dormitori, tingueu en compte aquests consells de disseny:
Trieu una opció de fusta més clara.
La manera més senzilla de donar un lifting al vostre dormitori és escollir mobles de fusta de color més clar. Si bé en el passat s'ha preferit la fusta de color marró fosc o fins i tot espresso, el disseny escandinau s'ha apoderat de la indústria de la fusta. El disseny escandinau afavoreix la fusta de to rossa combinada amb altres neutres com el gris i el blanc.
El disseny modern també afavoreix la llum natural. Mentre que els dormitoris abans eren foscos i amb cortines, ara veiem cada cop més dormitoris amb grans finestrals. Les opcions de fusta més clara s'adapten molt millor a entorns de llum natural. Si bé la fusta de tons foscos sembla molt més dura a la llum del sol natural, la fusta de tons naturals fa que l'habitació se senti més lleugera i tranquil·la amb tots els raigs solars.
Però, m'encanta la fusta fosca!
No estem dient que la fusta tenyida fosca no pugui ser moderna, però les taques naturals faciliten tenir un dormitori d'aspecte modern. Sobretot perquè els marcs de llit solen ser un moble enorme. La gran massa de marcs de llit fa que sigui encara més important dissenyar-los amb intenció. Quan els marcs del llit estan dissenyats amb una taca fosca, s'apropa a l'habitació. Escollir una taca més clara pot ajudar a que l'habitació se senti més oberta i no tan estreta.
A Mobleseltaller.com oferim opcions naturals per a cadascuna de les nostres espècies de fusta. Això vol dir que no taquem la fusta sinó que posem una capa clara del nostre acabat a sobre de la fusta. D'aquesta manera la fusta és la més lleugera possible. Pel que fa a les opcions de tons ros de Mobleseltaller.com, la fusta natural de roure o vern sembla ser una de les preferides. Si no us agrada el gra de la cendra, opteu per la noguera natural per obtenir un to natural més fosc, però encara encantador.
Fins i tot si el vostre dormitori no rep molta llum natural, com la imatge següent, un marc de llit de to natural farà que l'espai sembli més lleuger i contemporani.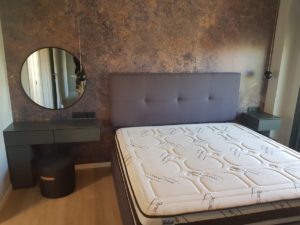 Aneu amb una opció de plataforma.
Una altra manera fàcil d'aconseguir que el vostre dormitori sembli modern és optar per una opció de plataforma. Els marcs de llit de plataforma solen tenir un disseny més minimalista, cosa que es tradueix com a més modern.
Les opcions de llit de plataforma també se senten una mica més informals que el marc de llit típic. No s'asseuen tan alt del terra com els marcs de llit tradicionals. Els estils de capçalera dels llits de plataforma de Mobleseltaller.com són molt senzills, cosa que afegeix un toc modern.
A Mobleseltaller.com també oferim l'opció de calaixos per a cada marc de llit. Aquesta opció és més favorable als llits de plataforma. Els calaixos també poden afegir un toc més modern al marc del llit, sobretot quan es personalitzen amb les nanses retallades. Les línies netes dels retalls ofereixen un petit detall modern al marc del llit.
Trieu un marc amb línies netes.
Ja ho he dit abans i ho tornaré a dir: línies netes. Això és fàcil de dir si us pregunteu: aquest moble és modern? Si està dissenyat amb línies netes o vores rectes, això és una bona indicació que és modern.
El disseny tradicional té més sagnats a la fusteria, mentre que el disseny modern afavoreix els angles rectes i les peces que no tenen cap voladís. Això també s'aplica a les cames del marc del llit! Una peça més moderna no tindria les cames arrodonides, sinó les cames netes com la imatge següent.
Abans de saber com treure els mobles moderns de mitjan segle, heu de saber què és el modern de mitjans de segle. Aquest estil va ser popular des de 1945 fins a 1969, i s'ha tornat més popular en els últims anys. El terme també inclou l'arquitectura, a més del mobiliari. Tot i que és difícil trobar una casa dels anys quaranta que no calgui renovar, podeu aconseguir l'aspecte amb alguns mobles.
L'estil modern de mitjan segle presenta línies nítides i angles atractius. Per exemple, un pendent dràstic en una línia de sostre o un bufet amb cames inclinades. Moltes peces de mobles moderns de mitjan segle inclouen accessoris industrials com el coure o l'acer en brut.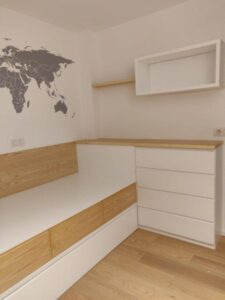 Trieu Materials barrejats.
Escollir un marc de llit que no només tingui fusta és una altra manera de crear un dormitori més modern. Afegir una altra textura a una habitació ajuda a completar l'aspecte, sobretot si ja teniu molts mobles de fusta.
Si sou un tipus més industrial i modern, el millor és treballar el metall sempre que sigui possible. Per sort per a tu, tenim un marc de llit que té una base i potes metàl·liques. Aquesta combinació de fusta i metall és bastant comú perquè es complementen molt bé. Tot i que el metall és fosc, proporciona un marc per a la fusta, que s'aprima ja que s'utilitza mínimament.
Tingueu un toc de color.
A moltes cases amb un estil modern de mitjans de segle, la gent opta per tenir un toc de color. Això és molt diferent dels estils populars actuals. La majoria d'estils presenten blanc, negre, beix i gris. Però, amb la modernitat de mitjans de segle, la gent opta per un pop de color. Aquests colors solen ser groc, verd fosc o taronja.
Per afegir un toc de color al vostre espai, podeu triar una cadira d'accent o pintar una paret amb el color. La quantitat de color que utilitzeu depèn completament de vosaltres. Però, com més color tinguis, més semblarà modern de mitjans de segle. Algunes persones també utilitzen diversos colors d'accent que es complementen.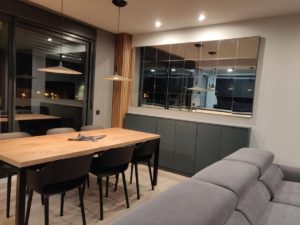 Mantingueu la decoració mínima.
Avui dia, tenir decoracions és molt d'estil. Sobretot amb l'estil de la masia, tenir rètols i fotos familiars per la casa és molt normal. Però, amb l'estil modern de mitjan segle, hauríeu de mantenir la decoració al mínim.
Moltes persones amb estils moderns de mitjans de segle decoren amb plantes i peces eclèctiques. Una botiga de segona mà o una botiga d'antiguitats és el paradís dels amants moderns de mitjans de segle. Les peces que són úniques i antigues són ideals per utilitzar-les en una casa moderna de mitjans de segle. Realment, qualsevol cosa que sigui interessant i atractiu és fantàstic per utilitzar-la com a peça de decoració. Però, només hauríeu de tenir una o dues d'aquestes peces a cada habitació.
Utilitzeu peces geomètriques.
Una altra característica de l'estil modern de mitjan segle són les peces geomètriques. A moltes cases, la gent té cadires que estan fetes de formes úniques o tenen peces de decoració de diferents formes. Per exemple, poden tenir un bol d'ornaments que són quadrats, triangles, cercles i molt més. O bé, poden tenir una cadira en forma de mà o feta de filferro.
Les peces geomètriques són un element bàsic en aquest estil, així que busqueu peces que podeu combinar amb els vostres mobles. Però també és important incorporar línies elegants amb les teves peces. L'ús d'una bona combinació de formes simples i geomètriques us ajudarà a tirar endavant aquest estil sense problemes.
Trieu mobles de fusta.
Si busqueu idees de mobles a Pinterest, trobareu que gairebé totes les peces de mitjans de segle estan fetes de fusta. Si no ho és, pot ser una de les peces geomètriques esmentades anteriorment. Però, la fusta és tan popular perquè aquest estil va sorgir quan els mobles estaven fets de fusta real. Avui dia, la majoria de peces estan fetes de materials barats com el plàstic o el tauler de partícules. La majoria dels mobles s'han dissenyat per incloure materials més barats que no duren tant. Amb els mobles moderns de mitjan segle, hauríeu d'invertir sobretot en materials de fusta.
Afortunadament, els materials de fusta no són cars quan trieu l'empresa adequada. Moltes botigues de mobles personalitzats tenen preus justos perquè han de competir amb les grans botigues. Però els seus materials són duradors i tenen un aspecte increïble. A Mobles el taller, totes les nostres peces tenen una garantia de per vida perquè recolzem els nostres materials i artesania.